FREE Services
Come in for a Free Fall Risk Assesment:
contact us at
623.544.0300
to set up an appointment.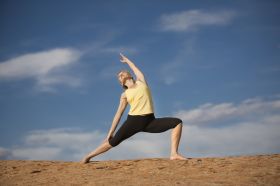 Fall Prevention/Balance Program
The fall prevention program includes a physical therapy evaluation of each individual's balance, gait, strength, and range of motion.
A physical therapist will design an individualized exercise program and work one on one with each person in improving gait, balance, strength, and range of motion. A simple home exercise program with pictures will also be issued.
If there are joint and soft tissue restrictions affecting your balance and gait, then manual techniques will also be performed to correct the restriction.
What You Can do to Prevent Falls
Begin a regular exercise program: lack of exercise leads to weakness and increases you chances of falling
Have your doctor or pharmacist review your medicines: Some medicines, or, combinations of medicines, can make you sleepy or dizzy and can cause you to fall.
Have your vision checked: You may be wearing the wrong glasses or have a condition like glaucoma or cataracts that limits your vision. Poor vision can increase your chances of falling.
Make Your Home Safer
Remove things you can trip over (like papers, books, clothes and shoes) from stairs and walk ways.
Remove small throw rugs or use double-sided tape to keep the rugs from slipping.
Keep items you use often in cabinets you can reach easily without using a step stool.
Have grab bars put in the next to your toilet and in the tub or shower.
Use non-slip mats in the bathtub and on shower floors.
Improve the lighting in your home: as you get older, you need brighter lights to see well. Florescent bulbs are bright and cost less to use.
Place a lamp within your reach close to your bed and install night lights in the pathway from your bed to the bathroom.
Hang light-weight curtains or shades to reduce glare.
Have handrails and lights put in on all staircases.
Paint a contrasting color on the top edge of all steps so you can see the stairs better.
Wear shoes both inside and outside the house. Avoid going barefoot or wearing slippers.
Get up slowly after you sit or lie down.
Information is from the CDC. For more information contact: Centers for Disease Control and Prevention 1(800)CDC-INFO (232-4636) www.cdc.gov/injury.
Proper Fit and Use of Walkers and Canes Can Prevent Fall Related Injuries in Elderly
The American Physical Therapy Association (APTA) is urging elderly adults who use canes and walkers as walking aids to be properly assessed and fitted by a physical therapist to avoid fall-related injuries. This advice comes in response to a study published in the Journal of the American Geriatrics Society (June 2009), which found that 47,000 senior citizens end up in emergency rooms each year due to falls from improper use and fit of walkers and canes. The study, conducted by government researchers, examined six years of emergency room records and found that the walker was associated seven times more with injury-related falls than was the cane. Physical therapists advise that these results indicate a strong need for proper fit and assessment. According to physical therapist and APTA member Cathy Ciolek, PT, DPT, GCS, many patients often borrow walking aids from friends and family, which can result in injuries. "We see many patients use borrowed canes, walkers, and crutches without adjusting the fit and height appropriately, which can cause discomfort and result in further injury," she said. In addition to providing a proper fit, your physical therapist can assess your individual needs to ensure you are using the proper walking aid and that it is in proper working condition. "In some instances a cane may not be the safest option, and it would be best to use a walker. Your physical therapist can help make that decision," says Ciolek. She provides some general tips for those using a cane or walker as a walking aid:
The walker or cane should be about the height of your wrists when your arms are at your sides.
When using a walker, your arms should be slightly bent when holding on, but you shouldn't have to bend forward at the waist to reach it.
Periodically check the rubber tips at the bottom of the cane or walker. Be sure to replace them if they are uneven or worn through.
As experts in restoring motion and mobility in people's lives, physical therapists work collaboratively with physicians to ensure safe recoveries from illness or injury. Ciolek recommends seeing a physical therapist for an assessment and proper fit or asking for a referral to a physical therapist from your physician. Physical therapists are highly-educated, licensed health care professionals who can help patients reduce pain and improve or restore mobility - in many cases without expensive surgery or the side effects of prescription medications.